It has allowed me to travel the country, work with various non-profits and government organizations, and make strong bonds with people from all over the United States. That being said, I had no idea what I would be getting myself into other than going to California, wearing cargo pants, & doing service work for a year.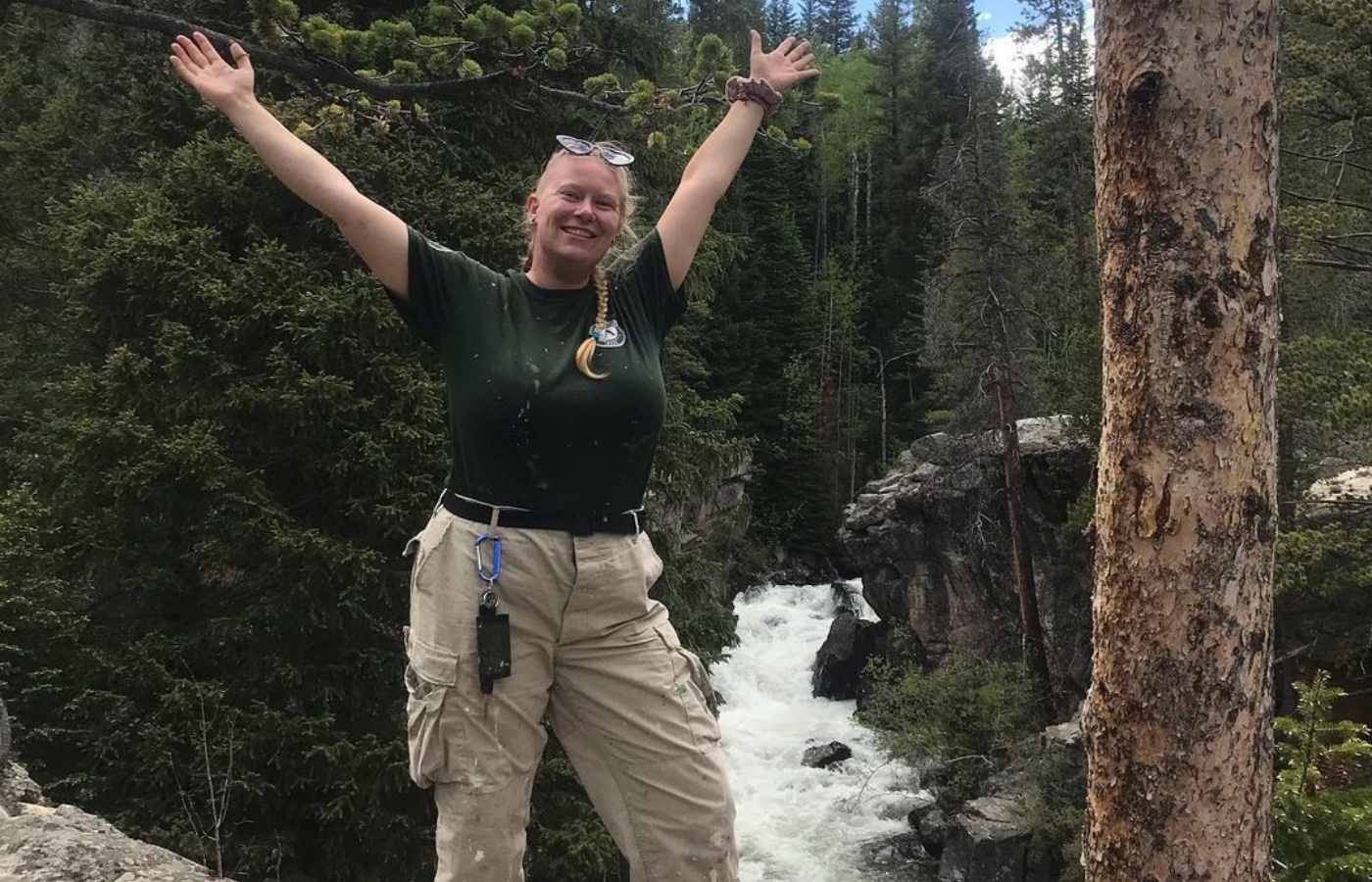 I've spent 3 years of my life serving with AmeriCorps NCCC. That's longer than some people spend in an apartment, or at their first job, or in a relationship. I've spent almost as much time in AmeriCorps than I did in college, and longer than most PeaceCorps Volunteers spend in the countries they serve in.
Throughout my three years with AmeriCorps, I served in 8 different states, in 12 different locations, with 14 different nonprofits/state agencies. I have served on 4 different teams with members from all over the country, including the U.S. Virgin Islands, and 3 of those teams I was in charge of! I have driven a 15 passenger van through the freezing winter in Wyoming, across the plains of Kansas, and flown to 2 separate Hawaiian Islands, all while wearing cargo pants and the AmeriCorps "A."
I know many of you may be asking "Wait, what is AmeriCorps? I've never heard of that." The short answer I give people, for when I've got to run back into my 15 passenger van and keep driving, is that we're a federally funded program that works with nonprofits across America to strengthen communities and develop leaders. AmeriCorps members serve with non-profits, as well as tribal organizations, schools, public agencies, and community and faith-based groups throughout the country. There are soooooo many different types of AmeriCorps programs, but I'll do my best to break it down for you.
A: AmeriCorps is a non-profit supported by the U.S. Federal Government (as well as foundations, corporations, and other donors), that strives to "help others and meet critical needs within communities". Simply put, AmeriCorps is a volunteer program that helps do stuff for Americans in our own country.
Q: That's great, but doesn't really tell us much. Would you please elaborate?
A: Sure! AmeriCorps is basically broken down into three different programs: AmeriCorps VISTA, AmeriCorps NCCC, and AmeriCorps State & National. AmeriCorps programs that vary drastically from program to program.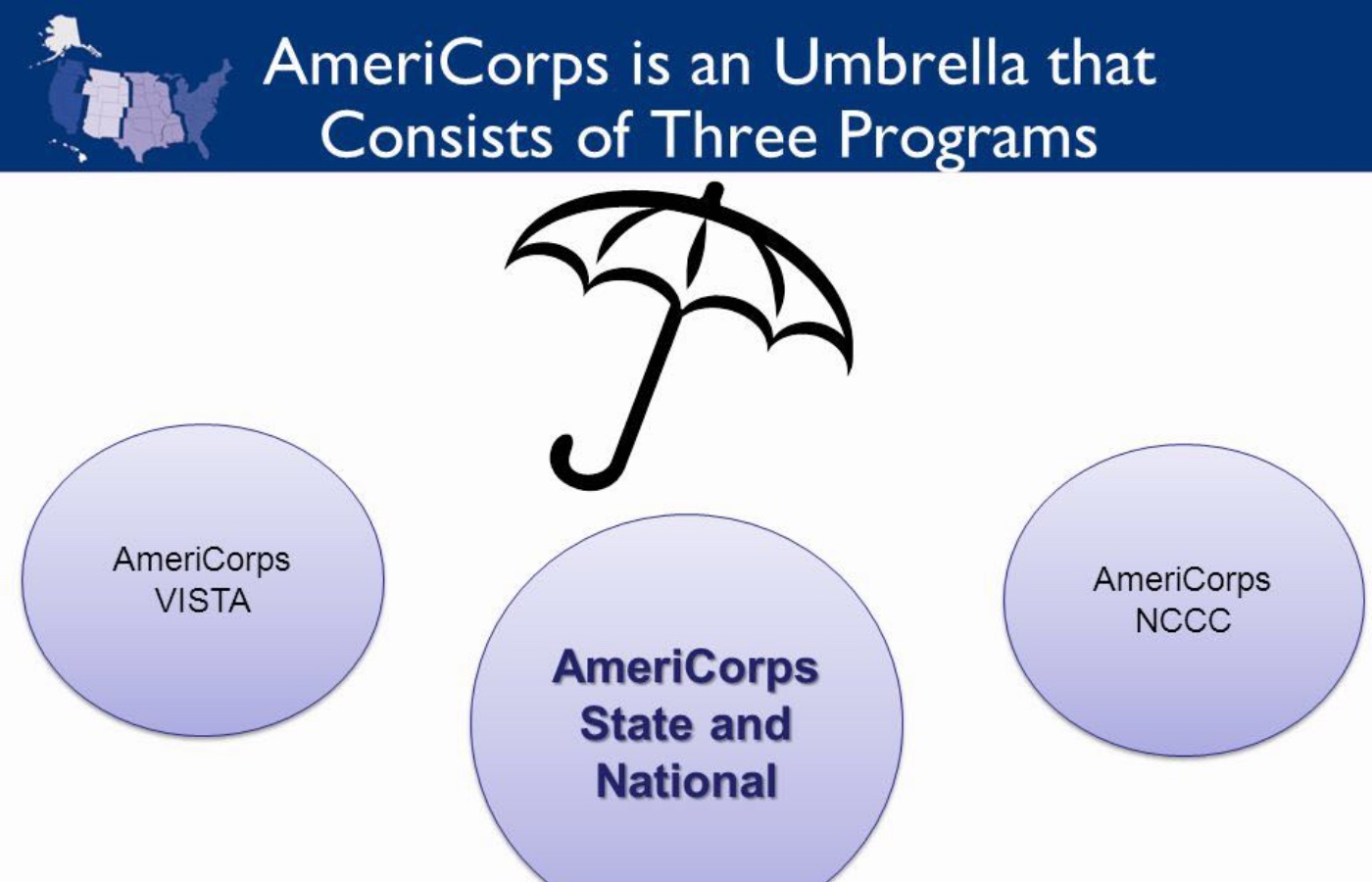 AmeriCorps VISTA positions and AmeriCorps State & National positions are too varied to narrow down into an entire article, let alone a sentence. Each organization that hosts these AmeriCorps members is unique in their service experience. Handily enough, my.americorps.gov provides a search engine to help you wade through the nearly 3,000 open positions (as of March 2021) to narrow down your search. The website provides service areas that are of interest to you, such as Disaster Relief, Environmental, and Homelessness, to name a few, and you can click as many or as few options as interest you in order to find a program that fits how you're looking to serve.
AmeriCorps NCCC, which stands for National Civilian Community Corps, is a different beast entirely, in my opinion, as it is a residential, team based program, for young adults aged 18-26. AmeriCorps NCCC has two similar, yet distinctly different programs under its' name. Traditional Corps, also known as NCCC, and FEMA Corps, it's sister program. What is known as Traditional NCCC is actually a revival of the Civilian Community Corps (the CCC) from the end of the Great Depression (ask your grandparents, they'll know what it was). AmeriCorps NCCC partners with many different nonprofit organizations which sponsor AmeriCorps teams who in turn spend roughly 40 hours a week working with those organizations. Projects could range from environmental restoration to invasive species removal, sustainable farming to building a house, trail building to campground maintenance; and those are just projects that I had during my first term of service!
Q: That sounds great, but I don't have 40 hours a week, I have to work!
A: The great thing about AmeriCorps NCCC is that, while not *technically* a job, AmeriCorps NCCC is a full time residential program, spanning 10-12 months, and because of that, provides the following to their members while they are serving:
Housing
Food
Transportation
Cargo pants, boots, and snazzy AmeriCorps shirts and jackets
Health coverage
Federal loan deference
A modest living stipend
A Segal Award, worth approximately $6,000 which can be used towards any accredited secondary education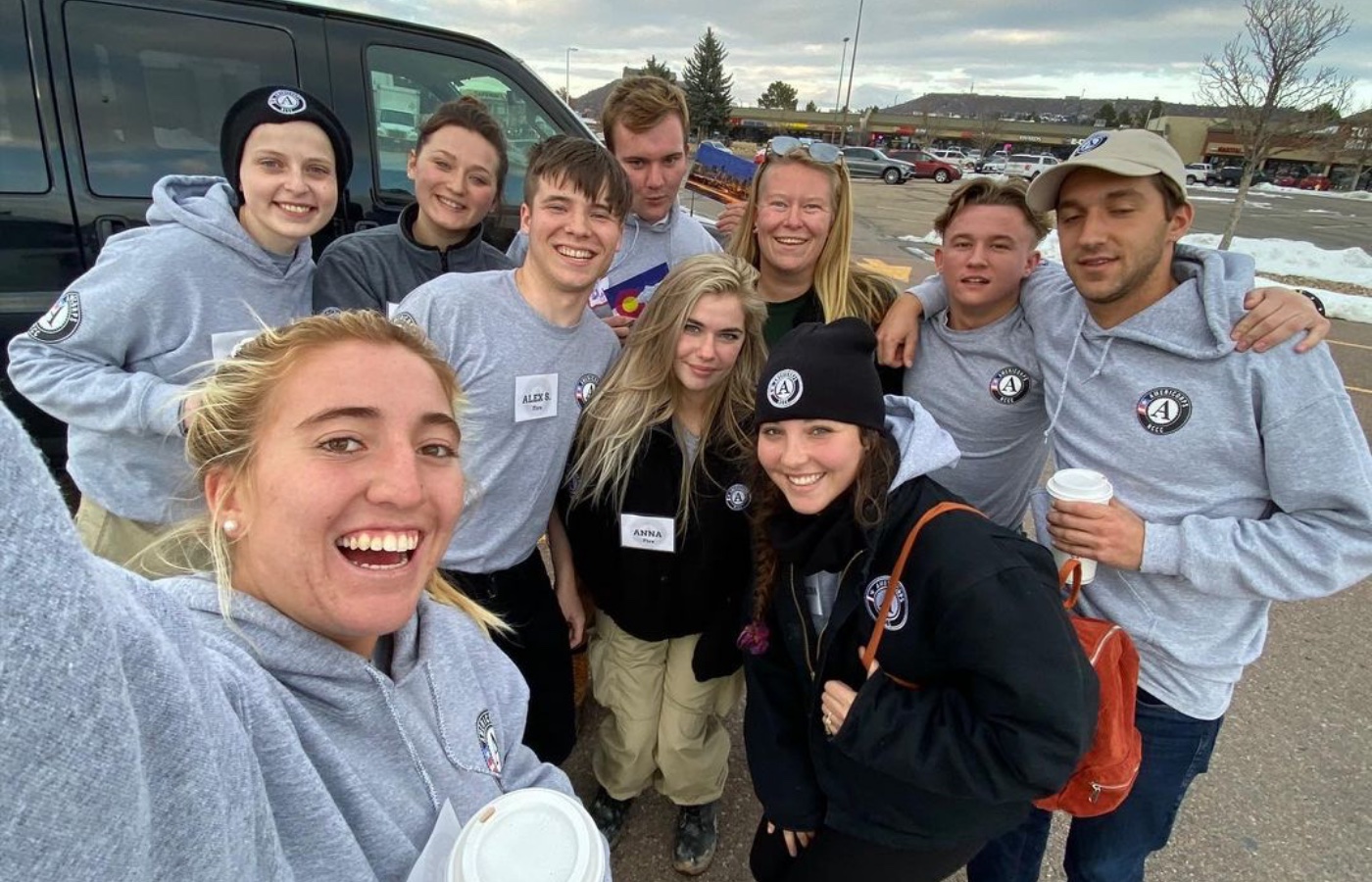 Q: What kinds of projects did you have to serve on to get those awesome benefits?
A: So many amazing projects. I'll break down my first year of service for you, since a synopsis of all three would take up as much space as the entirety of this article. The following were the sponsoring organizations I worked with, where they were located, what we did and how long we did them:
San Francisco, CA – Hamilton Wetlands – 6 weeks – wetlands restoration by way of planting 11,000 plants with my team.
Sheridan, WY – Habitat for Humanity of the Eastern Bighorns – 10 weeks – built a house (the frame was up when we got there and we didn't do electric or plumbing)
Big Sur, CA – Ventana Wilderness Alliance – 4 weeks – cleared sections of a wilderness protected trail (which means we can't use power tools) outside of Big Sur to make it wider and more level.
Boulder Creek, CA (near Santa Cruz) – Little Basin State Park – 4 weeks – campground maintenance i.e. cleaning/fixing/getting ready for the peak season of camping.
Ashland, OR – Southern Oregon Land Conservancy – 2 weeks – noxious weed removal, which is pulling non-native plants that can spread very easily and kill the native plants in the process.
Reston, WA/Mount Vernon WA – Rotary First Harvest – 2 weeks each location – sustainable farming; in Reston, helping to create a garden that their harvest will go to food kitchens in the Seattle suburbs; in Mount Vernon, working with a farm for veterans with PTSD to help take in their harvest.
Q: Cool, so I get to serve in California?
A: Maybe! AmeriCorps NCCC operates out of one of 4 regional campuses, which breaks the United States up into 4 different regions that serve certain states. Although teams may be relocated based on community needs, Traditional NCCC teams typically stay within their assigned region unless there are disaster needs other places, such as hurricane relief, or right now, vaccine distribution.
AmeriCorps NCCC members will serve out of one of the following 4 campus:
Pacific Region: based in Sacramento, California and serves the most western state, included Alaska and Hawaii.
Southwest Region: based in Denver, Colorado, serves the southwestern states.
Southern Region: based in Vicksburg, Mississippi, serves the southern states.
North Central Region: based in Vinton, Iowa, and serves, you guessed it, the northern and central states.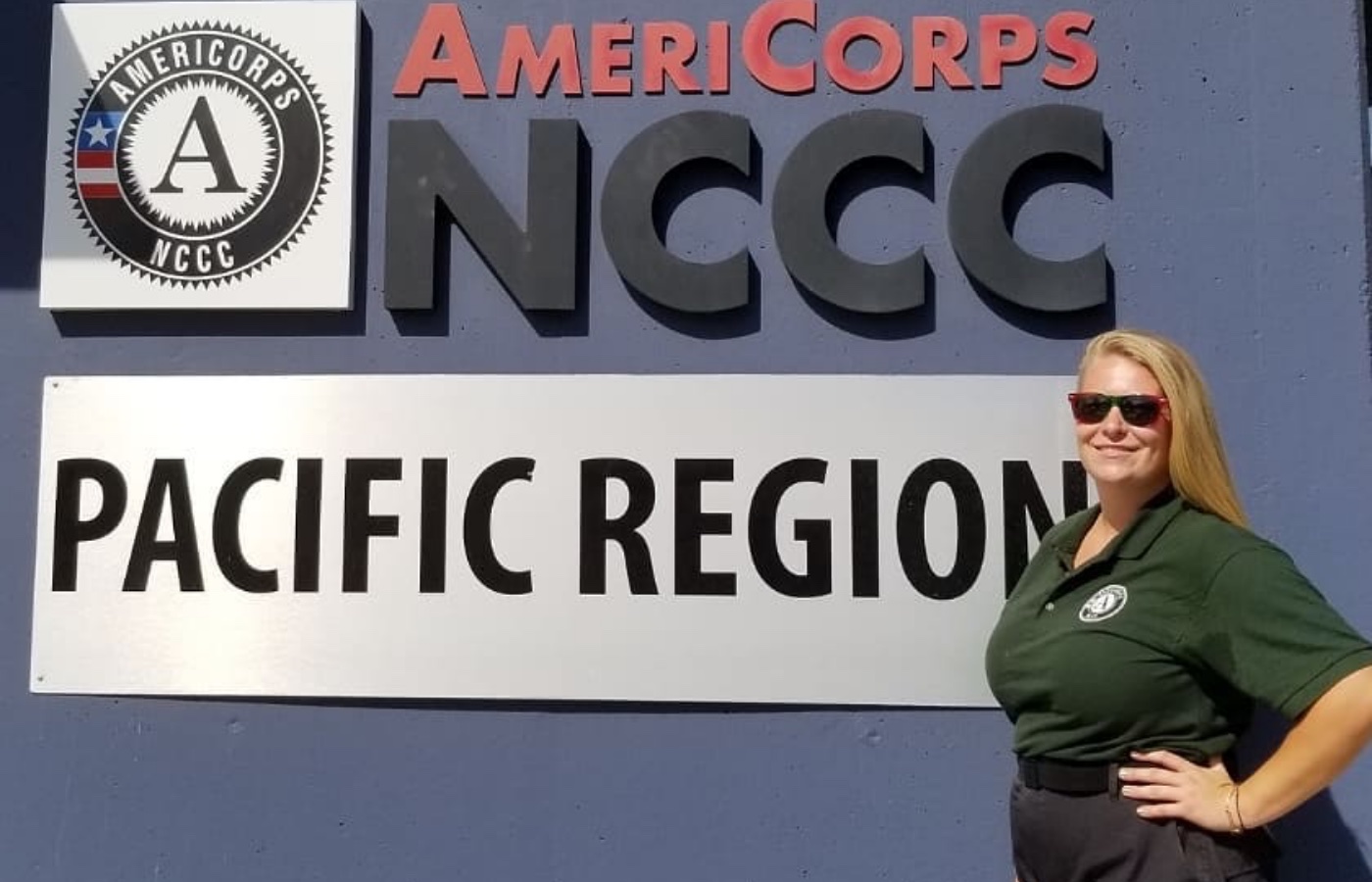 Q: So how do I sign up to travel the country and volunteer for a year?
A: You can apply online at my.americorps.gov under AmeriCorps NCCC postings for upcoming classes. It's a fairly simple application process, you just need a few references (I used my old Girl Scout leader and my paster when I first applied, as I didn't have much job experience) and the ability to apply online (public libraries will let you use their computers if needed!). You can also apply to a program we have listed on VagaJobs!
Whether you're not sure what you want to do at the moment (pandemic or not), looking to delay adulthood for another year, want to spend some time giving back to others, or just can't wait to travel around in a giant 15 passenger van, AmeriCorps is here to help you do it. I recommend AmeriCorps to everyone and anyone who will listen to me. I could talk for days about my many experiences with AmeriCorps, and maybe I will, but at the end of the day, AmeriCorps NCCC members are the boots on the ground of America, helping to strengthen communities across the country while developing future leaders. It was the best decision I ever made, and I'm so grateful for the three years that I spent in AmeriCorps "getting things done" for American communities.