There are very few places where you can enjoy the ocean, mountains, and desert, but Washington has all three. Home to three National Parks: Rainier, Olympic, and North Cascades as well as tons of public lands, there's something for everyone. Whether planning a weekend getaway or setting your sights to live in this great state for awhile, below are five great day hikes you must check out. They are listed from easiest to more challenging. All of these are popular hikes, especially during the summer months so it's important to keep that in mind. Practice Leave No Trace principles and click here for reminders on what that means. Without further ado, here are 5 great hikes in Washington!
The Olympic Peninsula Loop is something on many bucket lists. With Olympic National Park comprising of nearly 1 million acres and 95% of that being wilderness, there's plenty to do. Lazy beach strolls are simply awesome and Rialto Beach near La Push is one of the best I've seen. The trail is 2 miles long. Beginning from the parking lot, Climb over the driftwood and heads south until it shortly runs along to the jetty. There's plenty of sea birds and seals, but you might be lucky to spot otters, deer, and eagles. At low tide, walk towards Little James Island to explore the tide-pools for small oceanic critters. Even if you get there while the tide is in, you can use the overland trail to take in the panoramic views. This is personally one of my favorite hikes in Washington.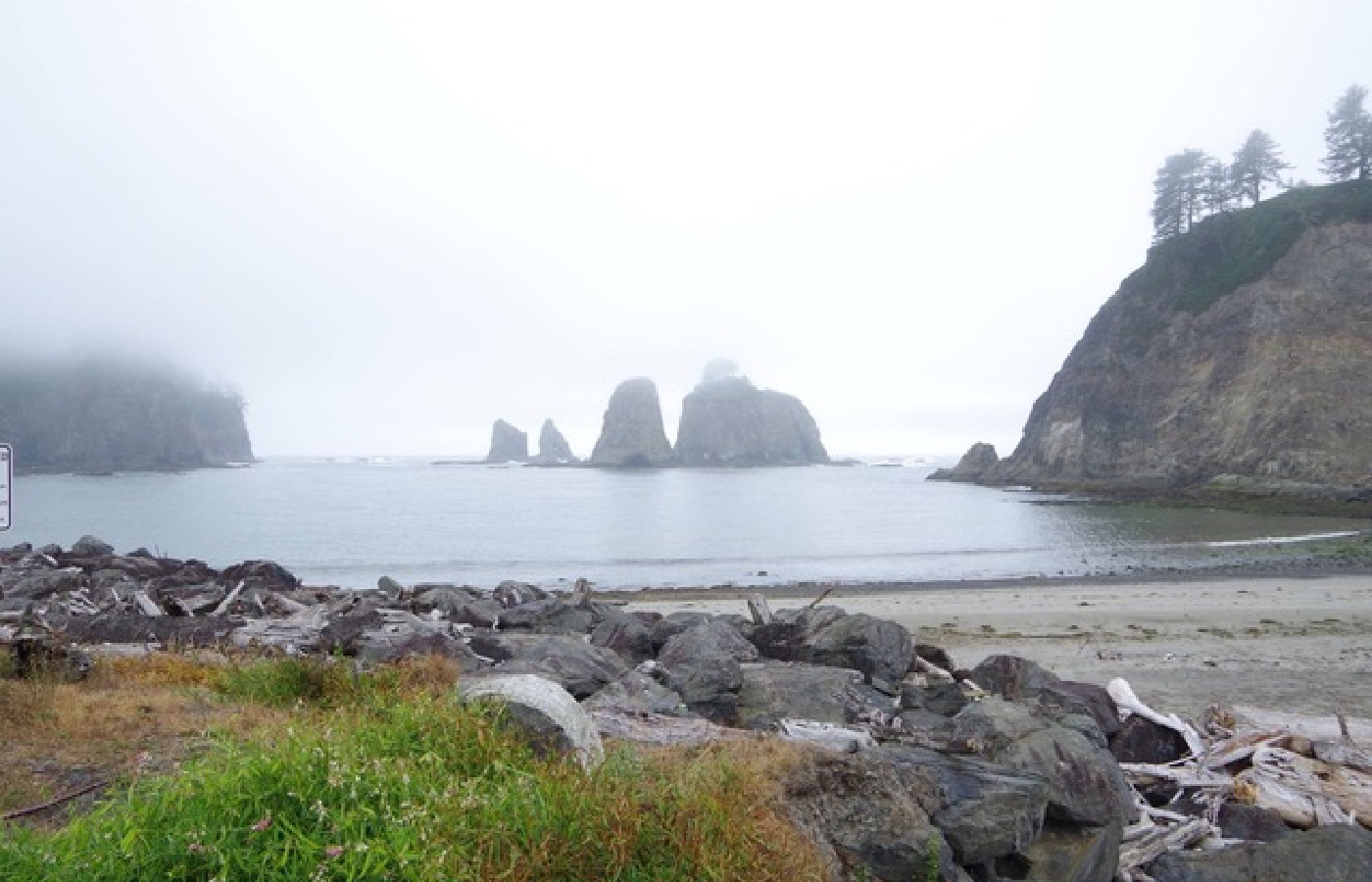 Our next destination takes us inward to Mount Rainier National Park, home to the 14,411'(4,392m) volcano indigenously known as Tahoma and many hikes in Washington. One of my favorite lazy day hikes is Comet Falls. At 301' in a single plunge, this destination makes for the perfect photogenic hike. From the parking lot, Comet Falls are 2 miles one way with 1,250' of gain. The middle portion of the hike has some significant elevation gain on the switchbacks. Afterwards, the last portion has some steady incline that lead to the three-tiered Bloucher Falls. Cross the log bridge and pass the sign indicating the main event is 200' away. You'll be tempted to get as close as you can to the falls only to realize the spray will drench you. If you have extra juice in the gas tank, you can go further to Van Trump Park, a beautiful alpine meadow at the foot of the mountain.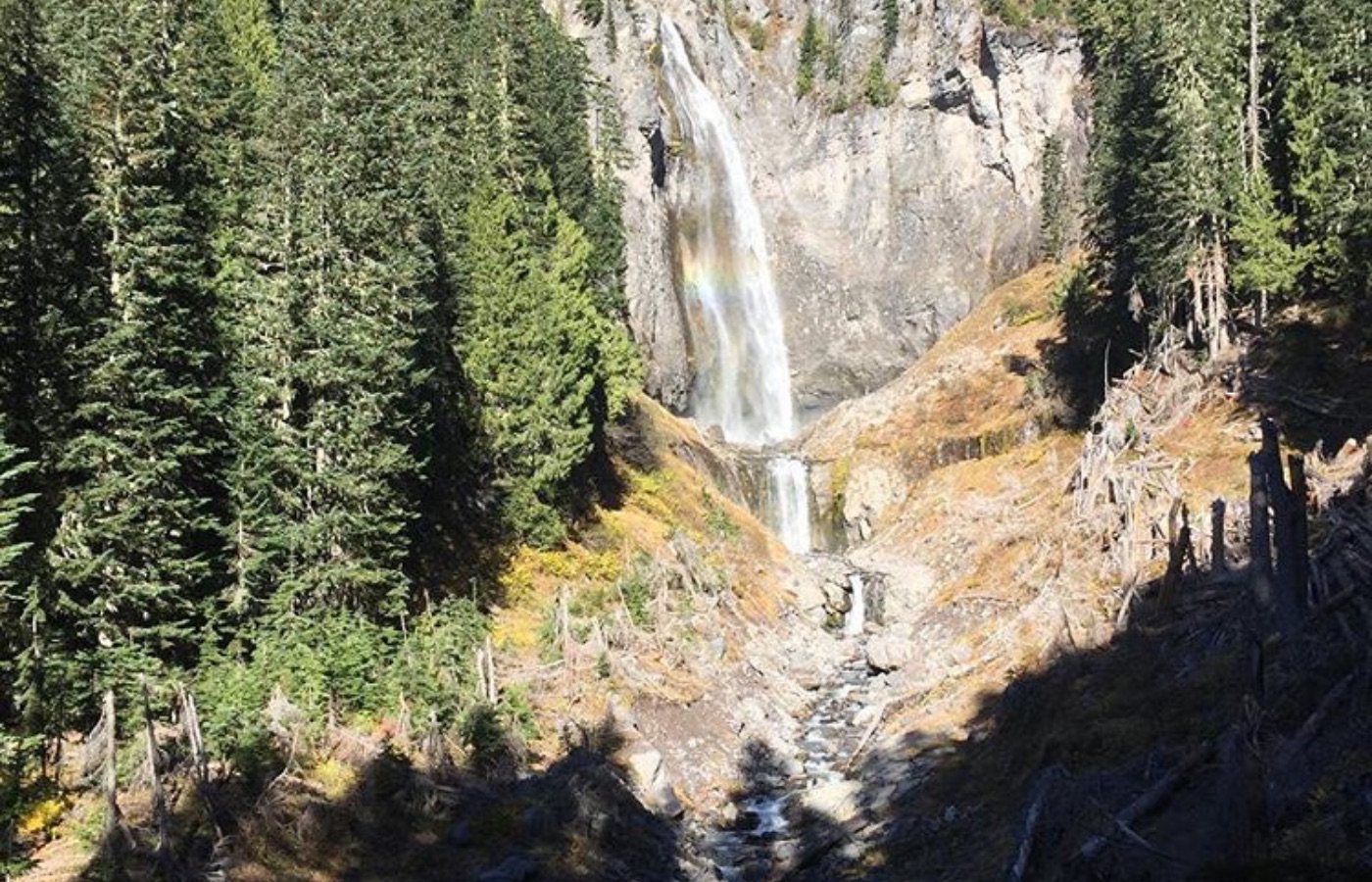 This is probably the most demanding hike in Washington State due to a combination of Colchuk's stunning blue water and Dragontrail peak being front and center. Colchuk is just one feature in the area known as the Enchantments. While a Forest Service pass ($5/day or $30/year) is required for day hiking, a permit by lottery is required to camp overnight. The hike is 8 miles roundtrip with 2280' gain. This trail is flat for the first 1.5 miles along the babbling Mountaineer Creek until the first high bridge. Be sure to catch your breath, shed a layer, get a snack because the trail then becomes rocky with switchbacks that won't quit until the lake. At 2.25 miles, you'll reach a junction and will need to make a left. Going straight ahead will take you to Stuart Lake which is a great flat option if you are already feeling winded. If continuing to Colchuk, descend back to the creek to the second log bridge. The switchback will now become steeper and rockier. Once you see Dragontail Peak's toothy ridge, stay to the right and then descend to the lake down from the smooth granite face. This is a great lunch and photo stop.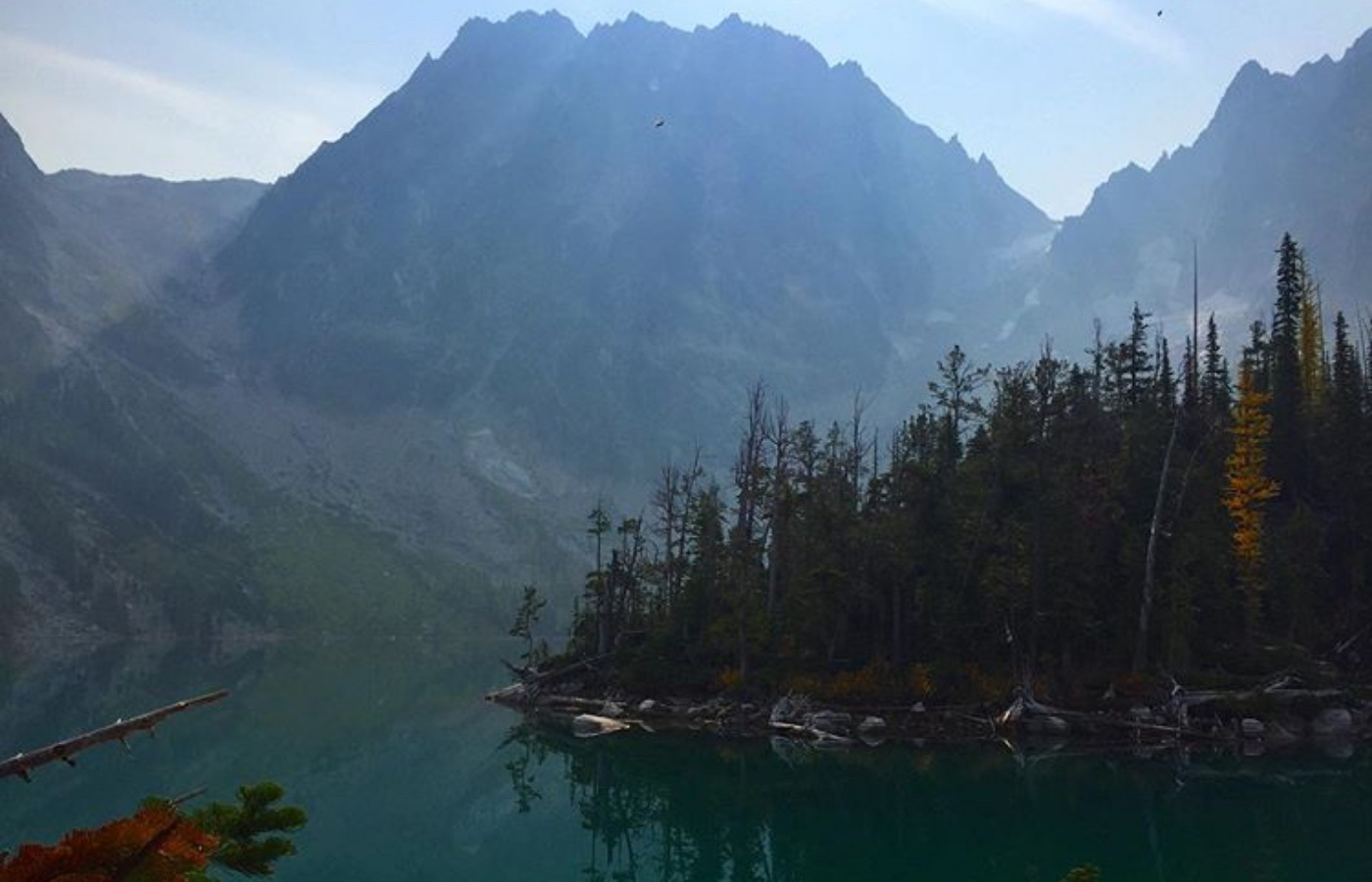 Going back to Rainier National Park, but on the Eastside. Although most of this trail has a gentle incline through the forest, your muscles will feel it by the end. At 12 miles roundtrip and almost 3000' gain, you can climb up to 6800' at Panhandle Gap which is also the highest point on the Wonderland Trail (a 96 mile thru hike that circumvents around the mountain). At mile 4.5, cross the log bridge and take in the first bout of alpine views. But it only gets better. After wandering through the grassy meadows, head up a few switchbacks to Summerland Camp. You should see a marmot or two, mountain goats, and there is a resident black bear (I've never seen it, but hear it's not afraid of humans). The meadows really open up here. There is a world of boulder, melted streams, and shallow tarns covered in snow even in late season. If you continue to the Gap, the trail will be even rockier with a gradual climb. At the top, the southern views are incredible. Goat Rocks and Mount Adams will be in the foreground and on a really good day and Mount Hood in Oregon is often visible.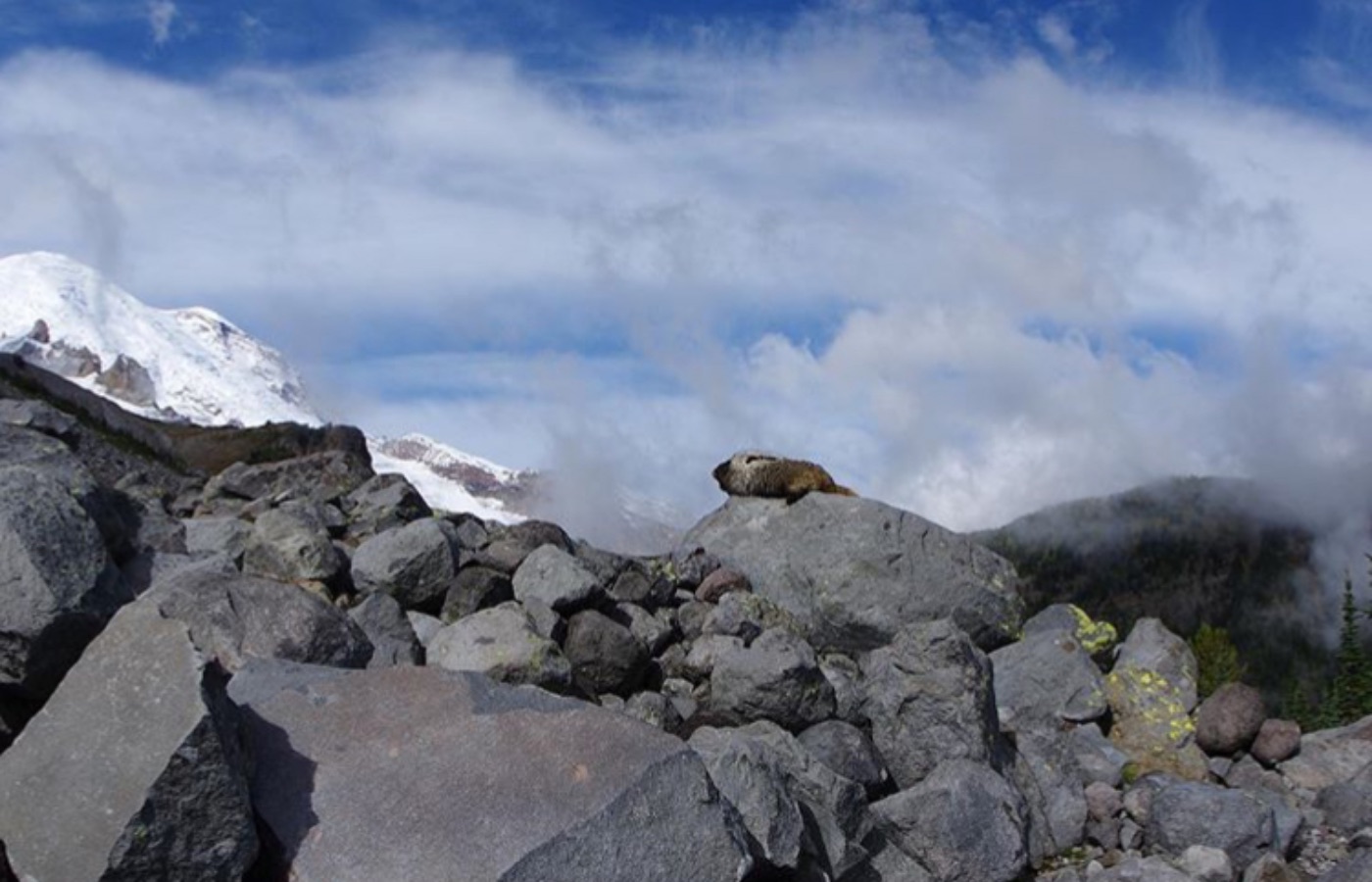 We top out our list by going north where many type-2 thrillseekers find themselves. If you are into mountaineering, there's plenty to peak bag in the North Cascades. Known also by its indigenous name, Da Klagwats, this trail tops at 7201', but you only have to climb 5300' in 11 miles. A fire lookout was built here in 1916, but after multiple disasters, the summit remained bare after 1965. You will still see cables and other remains left behind. This is a hike where you earn your views, even if you are well-conditioned. Don't be fooled by the first couple miles meandering through the woods with a gradual incline. After reaching Lake Metan, countless switchbacks will greet you until Stujack Pass. This is the first stop to take in views and get what you need. Continue with more switchbacks until reaching the knife edge. This is where many people recalculate their life choices and I recommend watching the Youtube video titled, "The worst part of Mt Pugh". Continue along the knife edge and arrive at a cleft above the glacial trough. Use your hands to help you mentally and physically, as you'll likely need four points of contact for this non-technical scramble. Relax at the summit, you've earned your views.